In the last decade avocado has become the brunch choice of the masses, and while many champion them as a source of 'good fat', some are now calling for them to carry safety warnings.
An increase in what has dubbed 'avocado hand' has meant that A&E departments are seeing people who've skewered themselves while trying to peel an avocado. 

Yep some rather gnarly photos of people in the emergency department have cropped up and speaking to the Times, David Shewring, vice-president of the British Society for Surgery of the Hand, said:
"Recently the health benefits of avocado have been advocated, with an increase in their popularity – and a consequent increase in related injuries."
This middle class affliction has even had a leading plastic surgeon come out and argue that warning labels should be put on the fruit.
The Times reports that Simon Eccles, honorary secretary of the British Association of Plastic, Reconstructive and Aesthetic Plastic Surgeons, treats roughly four patients a week at Chelsea and Westminster Hospital for wounds caused by avocado accidents.
"It needs to be recognisable. Perhaps we could have a cartoon picture of an avocado with a knife, and a big red cross going through it?"
What's most shocking about these photos is that people didn't think to use a blunter knife, what with most ripe avocados being incredibly soft and easy to break into.
It seems even celebrities have fallen foul of the beloved avocado, with Oscar-winner Meryl Streep being injured back in 2012.
So be safe out there kids…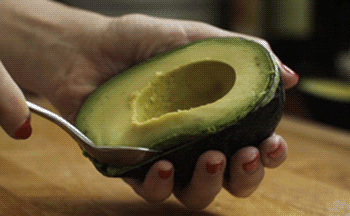 source : http://www.konbini.com/en/lifestyle/avocado-warning-signs-increase-accidents/